ABOUT THE PRESIDENT
Lezley Brown, Chamber President/CEO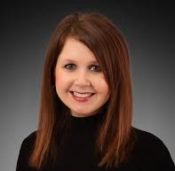 A new Chief Executive Officer and President has been named for the Hopkins County Chamber of Commerce.  She is Lezley Brown. Lezley is a Sulphur Springs native and graduate of Sulphur Springs High School and holds a Bachelors Degree from the University of North Texas and a Masters Degree in Communications from Texas Women's University.  She is married to former Hopkins County Judge Chris Brown and has three children.
Lezley Brown graduated from Sulphur Springs High School in 1996 and received a Bachelor of Arts degree from the University of North Texas in 1999. Brown graduated from Texas Woman's University with a Master of Science degree in Communication Sciences. She and Mr. Chris Brown have been married for almost 19 years and have three beautiful daughters, Katey (14), Talley (10), and Jobey (7).
Brown says, "Representing Hopkins County has always been a desire of mine.  When the opportunity to interview for the President of the Chamber arose, I pursued it wholeheartedly. I'm taking the reigns from Meredith Caddell whom has worked alongside her Chamber board members so diligently to move the chamber into a wonderful place.   It is because of their hard work I will be able to step in and continue their mission of moving the chamber forward."
She continues on to say that one of the aspects she most enjoys about this position is creating new relationships and furthering existing ones and that meeting new people is one of the best parts of the day.
The Chamber represents Hopkins County in the most positive way possible, promotes business and industry, strives for their successes, and brings awareness to local businesses that help make Hopkins County such a wonderful place to live.
Lezley Brown plans to bring new adventures and opportunities to the Hopkins County Chamber of Commerce. This is an exciting time for Hopkins County, Sulphur Springs, and the Chamber of Commerce. We encourage you to join us on this adventure!